Ford Auto Service in

Hawley

Near

Pelican Rapids

,

Glyndon

,

Ada

and

Lake Park

Keeps Vehicle Performance Optimal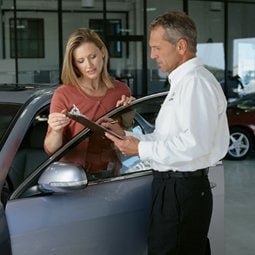 Having a vehicle that is reliable, and able to tick off the 100,000-, even 200,000, or 300,000-mile marks is quite the accomplishment, and something to be proud of. It's all certainly possible with a new Ford  F-150, Maverick, Bronco, Escape or Explorer. Others also see the value in passing the car on to close ones later on. No matter what reason you choose, longevity is key.
The best way to ensure it? Keeping up with the recommended service and maintenance schedule right from the manufacturer and the owner's manual is a great place to start. Our specialists here onsite also are here to help, providing diagnostics, routine check-ups, and other repair needs that include multi-point inspections, brake repairs, oil changes, and tire rotations among many others with Ford parts.
Scheduling an appointment with us is a breeze, too. Just submit a form online, call the Muscatell Burns Ford service department, or visit us at Highway 10 Box 39, Hawley, MN 56549. Our team is happy to work with you, and provide you with the confidence you need to drive a vehicle that is going to last for many, many miles.