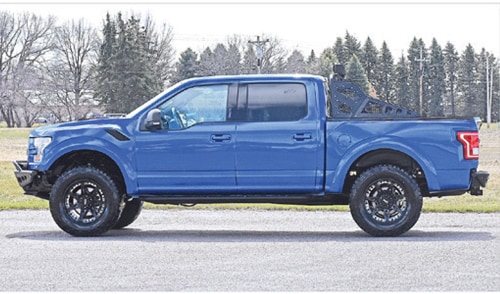 Waldoch Storm Truck package was built in early 2015 after Ford Motor Company was not going to have the Ford Raptor Come out till 2017. Waldoch based the Storm Truck around the Ford Raptor, but always kept one thing in mind that they want to make it different and stand out from the factory Raptor. The other goal Waldoch has is to make the truck work just like the 2017 Raptor, but cost less so everyone that wants a new truck can afford one. Waldoch has been building custom trucks for 40 plus years and this truck is one of the coolest trucks yet, replacing all the Factory body side panels and the custom design bumpers makes it stand out.

Storm is built on the Ford F150 platform Crew Cab Short Box with two different engine options 3.5L Eco Boost and the 5.0L V8. This Truck is the Best Off-Road or on road Truck around, sports Fox Racing Shocks with adjustable values. Not only are these Fox Shocks adjustable they are rebuildable and you never have to replace the Shocks.

Storm's 3.5L Eco Boost has the option of getting a stronger Turbo on the truck that will add the horse power to the rear wheels; the 5.0L has the option for an Edelbrock Super Charger giving the truck 740 HP on the 5.0L V8 Ford Engine.

The Storm comes with a 20x10 wheel that give it a 4" wider stance the Factory F150. The Off-Road Storm come standard with the Mud Terrain Atturo Tire that can plow through about anything from Snow to mud. Atturo Trail blade M/T 35x12.50R20 tire is no match for any other tire out there.

Storm's Front and rear bumper are no match for anything you put in front of it. They are built to last and stronger than any Off-Road Baja vehicle. The LED lights that are on the bumper are to make the night light.

Waldoch Storm Truck is matched with the Factory 3 Year 36,000 mile warranty.